All options for getting an updated travel signature can be found on the "Get a Travel Signature" page.
If you plan to travel back home, to another country, or even inside the U.S., you should plan ahead. Remember, your entry into the U.S. is the decision of Customs and Border Protection (CBP). You should always travel with the following documents.
Please monitor world news to stay updated on current events that may affect your travel plans. If your travel is sponsored by UW–Madison, you must follow the university's travel policies.
This is an accordion element with a series of buttons that open and close related content panels.
Passport Valid for 6 Months Into the Future
F-1 or J-1 Student Visa
You must have a valid F-1 or J-1 student visa to reenter the U.S. Your visa can expire while you are inside the U.S. maintaining valid F-1 or J-1 student status. Also check the number of entries your visa is valid for (M=multiple).
You cannot renew your F-1 or J-1 visa inside the U.S.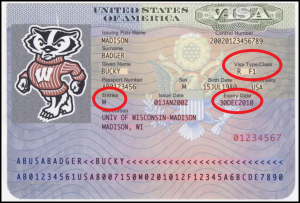 Valid I-20 or DS-2019 with Travel Endorsement
You must carry your most recently issued I-20/DS-2019 with you when you travel outside of Madison. A valid travel signature from ISS is required.
Current I-94 Record
You are issued a new I-94 after each entry to the U.S., so it is necessary to retrieve your most recent I-94 upon your reentry.
Enrollment Verification or Transcript
It is recommended that you carry your  enrollment verification letter or transcript that shows past, current, and future enrollment. This helps to prove your maintenance of legal F-1 or J-1 student visa status.
Proof of SEVIS I-901 Payment
Carry the receipt for your current SEVIS ID number.
Financial Documentation
It is recommended that you carry your most recent financial documentation that matches the funding on your I-20/DS-2019. This is required if applying for an F-1/J-1 visa.
If you forget your documents, you might face delays at the U.S. port of entry. CBP may send you to secondary inspection if they are not immediately able to verify your information. You may be able to kindly request a Form I-515A that will allow you to temporarily reenter the U.S.
If you have all of your documents each time you enter the U.S., but you are always sent to secondary inspection, you should file for a DHS redress number far in advance of your next planned travel outside the U.S.
Know Your Rights: What to Do if You are Detained at a Port of Entry (F & J visa holders). This document is provided by the American Immigration Lawyers Association (AILA) New England Chapter, and does not constitute legal advice.
What is your travel signature (or endorsement), how to get one, and what to do if you left the U.S. without updating your travel signature.
Learn what you need to do if any of your immigration documents are lost, stolen, or expiring.
Review information on what to do if your visa is delayed, denied, or cancelled.
Your F-2 and J-2 dependent travel requirements and how to invite a family member to visit you.
Be prepared before you book travel to or transit through another country, including automatic visa revalidation.
If you are planning a cruise during or after your studies, review this information before booking your trip.
Remember, the U.S. government determines your eligibility to enter the U.S. Be prepared and have the required travel documents with you.