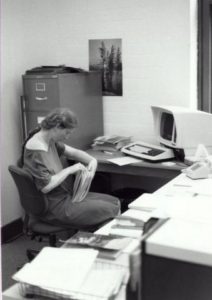 International students have been attending the University of Wisconsin–Madison as early as the late 1800s.
In 1948 the UW-system hired its first part-time foreign student advisor for the 320 international students studying at all of the UW campuses. The advisor was a faculty member from the French and Italian Department at UW–Madison. Up until that time, the job of welcoming international students and acclimating them to their new home here in Wisconsin, was taken on by student organizations, such as the International Club or Cosmopolitan Club.
1952 is when the U.S. government created the F-1 student visa.
UW received approval for an F-1 program in 1954 and by 1959 an official "Office of the Foreign Advisor" was established. The advisor received a part-time assistant to help the 920 UW-system international students. All but 27 of which attended the UW–Madison.
Year  |  Division that the office was located in;
1958 – French and Italian Department
1959 – Student Affairs
1962 – International Studies and Programs
1973 – Academic Support Services of the Chancellor's Office
1974 – International Studies and Programs
1976 – Division of Academic Services
1989 – International Studies and Programs
1993 – Student Affairs (renamed the Office of the Dean of Students in 1995, later renamed Student Life in 2010)
2021 – International Division
In 1998 the International Student and Scholar Services, ISSS, staff moved from 115 Science Hall, to the second floor of the newly renovated Red Gym "the Gateway to the Future", having outgrown its space in Science Hall. ISSS was relocated to the Red Gym along with other units to be "the primary, high traffic information and service center for undergraduate enrolled students." At the end of 2000 the scholar advisor moved to the Office of International Faculty and Staff, IFSS, permanently and the ISSS became International Student Services (ISS). As a result of this specialization, ISS has been able to focus much more attention to students' programmatic and developmental needs; helping them to successfully negotiate the intercultural transition process and feel more connected to the University. The ISS mission is to contribute to the successful experience of all students, with an emphasis on international students, studying at the University of Wisconsin-Madison by providing vital services and programs and to advance the internationalization of campus and community by providing dynamic leadership and resources. As we enter the 21st century, ISS looks forward to assisting new generations of international students who have chosen the University of Wisconsin-Madison.