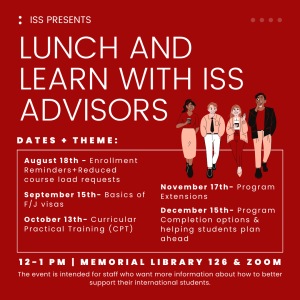 International Student Services (ISS) is holding a Lunch & Learn series; held the third Thursday of each month in a hybrid format. Join us in-person at Memorial Library 126 and bring your own lunch!
or
Meeting ID: 954 3865 8202  Passcode: UWBadger  
If you need an accommodation to attend this event, please contact Kathleen Finnegan/International Student Advisor at Kathleen.Finnegan@wisc.edu/ (608) 262-2044. All accommodation requests should be made no less than two days before the event. We will attempt to fulfill requests made after this date, but cannot guarantee they will be met. This session will also be recorded and posted to the ISS website the week following the presentation. 
Lunch & Learn Recordings
This is an accordion element with a series of buttons that open and close related content panels.
F-1 & J-1 Visa Basics (September 15, 2022)
Enrollment Requirements & Beginning of the semester Reminders (August 18, 2022)
ISS Panel: Question & Answer session (June 15, 2021)
International Travel Guidance + National Interest Exception (NIE) (May 18, 2021)
On May 18, 2021 ISS Director, Samantha McCabe and International Safety and Security Director, Ron Machoian discuss the current information and challenges related to international student travel for the Summer and Fall 2021 terms including the travel bans from certain countries and the National Interest Exceptions for students from those countries. Guidance is subject to change.
Watch the recorded session on the International Student Services channel in Kaltura.
Resources shared during the presentation:
Fall 2021 Enrollment & Travel Guidance (April 26, 2021)
Samantha McCabe reviews enrollment and international travel guidance for new (incoming) and continuing international students. Guidance is subject to change.
Immigration Document Start & End Dates (March 16, 2021)
Samantha McCabe reviews Program Start and End Dates and the impact these dates play in an international student's timeline of arriving to campus.
Employment Options for International Students (February 16, 2021)
Samantha McCabe, Dilyn Riesterer, and Kathleen Finnegan review the basics of international student employment options. A brief review of taxes, social security numbers, and ways for campus partners to support international student employment is also included.
New International Student Experience (January 19, 2021)
Morgan Keller and Samantha McCabe discuss the new student experience and the steps of completing International Student Orientation and Check-in through Terra Dotta. Watch the recording here or on the International Student Services channel in Kaltura
How to submit TerraDotta Verifications (December 15, 2020)
Spring 2021 Enrollment & Travel Guidance (November 17, 2020)
ISS Advisor Caseload Townhall (July 31, 2020)