ISS is committed to creating meaningful and engaging experiences for UW-Madison international students, also known as "Global Badgers." We host and collaborate on a variety of engagement, transitional, and co-curricular education programs and events that focus on leadership development, social justice, and learning through the Wisconsin Experience. Our programs and events aim to foster global citizenship, career development, and personal growth for all Global Badgers while enhancing internationalization within our campus and local communities.
Click below for details about our reoccurring events this semester- all students are welcome!

International Reach: Cross-Cultural Speakers Program
Learn about this cross-cultural speakers volunteer program and improve your presentation skills. Reach is hybrid for Spring 2022.

Global Café
 Learn about new cultures while meeting other international and U.S. students. These events are hosted by student organizations.

Global Badger Success Series
Learn about campus offices and resources for a successful transition to the University!

PEACE (Practicing English and Cultural Exchange)
Come and join us for a free, non-credit English conversation and cultural exchange class.

Global Badger Experience Grant (GBE Grant)
Student organizations interested in applying can review resources, check approval dates, and read application tips.
International Peer Mentor Program

Find out how to apply for this International Peer Mentorship program and make new friends.

International Student Advisory Board (ISAB)
Join fellow international students in advocating for campus issues that matter to you.

ISS-Affiliated Student Organizations
Learn how to get involved with Registered Student Organizations (RSOs) across campus, and how RSOs collaborate with ISS.

Madison Friends of International Students (MFIS)
Community organization partner with ISS. Connect with local residents, participate in fun events, and get involved in the Madison community.
Upcoming ISS Events
October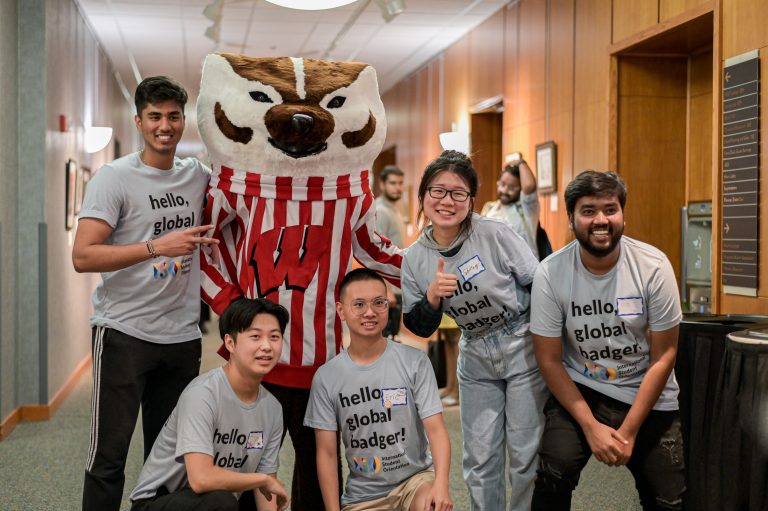 Looking for ways to get involved in programs?
Talk to us! Send us programming ideas, ask questions, and request accommodations at events by emailing issprograms@iss.wisc.edu
Need an accommodation for an event? Contact issprograms@iss.wisc.edu or call 608-262-9716. All accommodation requests should be made no less than two weeks before the event. We will attempt to fulfill requests made after this date, but cannot guarantee they will be met.