Featured Story
Director's Note from Samantha McCabe
Originally published 7/24/2020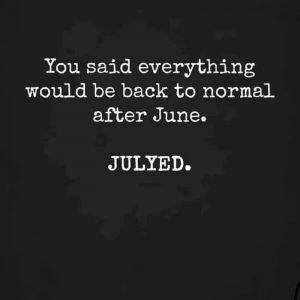 Global Badgers,
I recently saw this image and it immediately made me laugh… and cry. July has been a challenge for international students, families, ISS staff, and every member of our campus community. We appreciate your patience with us as we have sought clarity from government agencies and consulted with our campus partners on how to navigate the many changes we have seen just this month.
I am happy to report some positive news– the harmful broadcast message from ICE/SEVP issued on July 6th was rescinded on July 14th and just today we received updated guidance for fall 2020. This latest update gives us hope that we will be able to welcome some of our new students to Madison this fall as they begin their journey as Global Badgers. More exciting is the fact that our continuing students will be able to maintain lawful F-1 status, and practical training eligibility benefits as a result.
Our work does not end here, however. There are specific challenges to visa acquisition and entry to the U.S. for our Chinese students and fluctuating COVID-19 cases present challenges to international student mobility. We continue to advocate for policies and guidance that put the health and safety of our community first. As we get closer to the start of the fall semester, we encourage each of our students to put their health, safety, and well-being first when deciding enrollment and travel plans.
ISS continues to be present virtually to support you, and we have a dedicated team of advising colleagues across campus to help navigate enrollment questions. You are not alone to navigate these decisions. We encourage you to seek help if you have any questions or doubts. Together, we will make Fall 2020 a successful semester!
On, Wisconsin!
Samantha McCabe, ISS Interim Director
Announcements
On July 31, 2020, we introduced our new advising caseload to campus partners in a town hall. In this session, we discussed what students can expect from advisors, how students should communicate with ISS moving …

August 4, 2020