What is an I-94 record?
The I-94 is an official US government record of when you enter and depart the United States. Your I-94 record confirms the immigration status under which you entered the United States and the duration of time you can legally stay in the U.S.
If you entered the U.S. with an F or J visa, your Admit Until Date should say "D/S." This means that you can legally stay in the U.S. for the duration of your status, or the duration of your student program.
If you have a date on your I-94 record, contact us as soon as possible.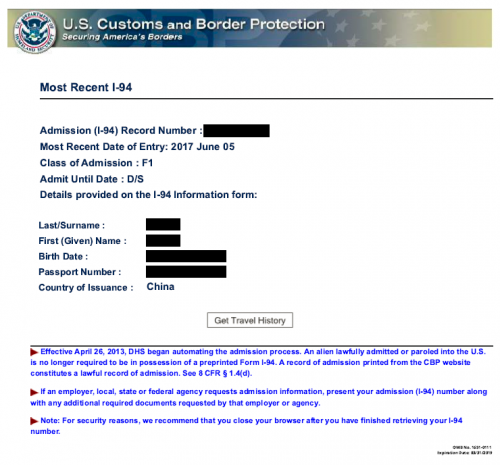 How to get your I-94 record
Use the steps at the right to get your I-94 record. Make sure all the information in your record is accurate.
Print out your I-94 record and keep it with your other immigration documents.
The electronic I-94 record will continue to be available to you while you remain in the U.S. Once you depart the US, your electronic I-94 record will no longer be available for you to view.
Each time you reenter the U.S., a new I-94 record will be created. You should review it and print each time.
This is an accordion element with a series of buttons that open and close related content panels.
Step 1
After you enter the United States, go to the I-94 site here.
Step 2
Click 'Get Most Recent I-94'
Step 3
Click 'Consent & Continue'
Step 4
Fill in all boxes with information from your passport, then click 'Next'
Note: 'Passport Country of Issuance' is the country that gave you your passport.
Step 5
Check that the following information is accurate:
Most recent date of entry
Class of admission
Admit until date: D/S
Step 6
Step 7
If you have reviewed our tips and you still cannot locate your I-94 record, you must email Customs and Border Protection Deferred Inspection so they can fix your record.
Read How to Correct I-94 Issue. Contact ISS if you need help or have questions.
Adapted with permission from New York University.