ISS accepts international student forms through the online immigration compliance and record management system called Terra Dotta.
Terra Dotta will:
Enhance the international student experience
Streamline all immigration-related documents and requests in one online system (reduction of paper forms!)
Collect electronic signatures from you on ISS forms that require your verification of a student's academic status or eligibility (Reduced Course Load (RCL), Curricular Practical Training (CPT), I-20/DS-2019 Extension, etc.)
Send automated reminders and alerts to students
Terra Dotta will not:
Replace the ISS website- we will still update important information at iss.wisc.edu
Integrate with Advisor Notes System/Advising Gateway. ISS staff will still access and use Advising Gateway on a case-by-case basis.
Integrate with Starfish, Handshake, or Salesforce
Learning Center
This is an accordion element with a series of buttons that open and close related content panels.
Advisor Verification Email
A student who submits any of the immigration record requests below will need the verification of their advisor or coordinator before they can submit their completed immigration record request to ISS for processing.
Change of Education Level
F-1 New I-20 Request (Return from Leave of Absence)
The student will be instructed to enter the name and email address of their advisor or coordinator after they have discussed the immigration record request. The specified staff member will receive an automated email from ISS (iss@studentlife.wisc.edu) with the subject line of "Recommendation Request from (student's name) for Terra Dotta."   The email will contain a link to the verification form and a Recommendation ID.  It will also tell you the type of request the student is seeking your approval for and the term that it will apply to.

Click on the link and enter your Recommendation ID and the last name of the student. Click the "Validate" button.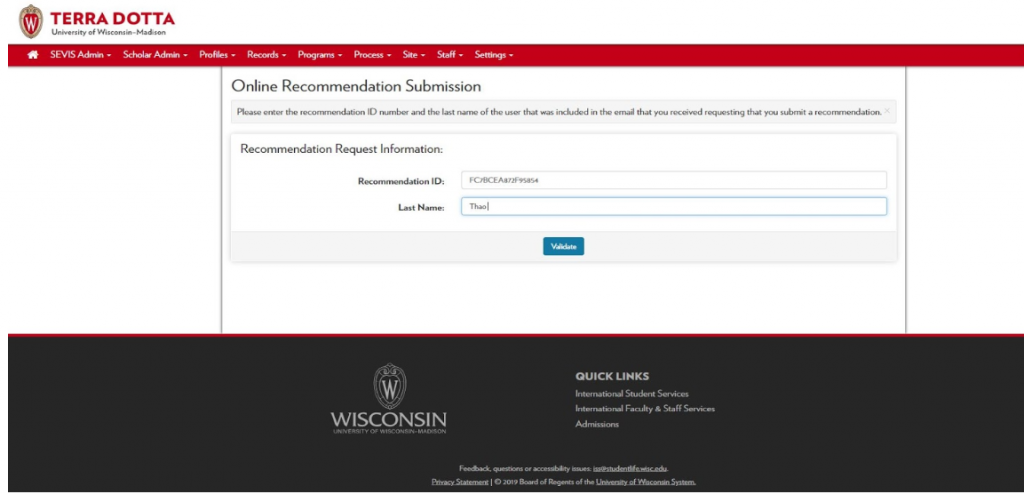 You will then be taken to the verification page.  This page will explain any relevant information about the immigration record request that the student is making.  The verification page is the electronic version of the "Advisor"section on our paper application forms.  Once you have completed and verified the information, you will electronically submit the page. The submission will show as completed when the student logs in to their Terra Dotta profile to allow them to submit their completed immigration record request. 
If you wish to access verifications that you have submitted in the past, you may create a Terra Dotta account by following the link in the email.