Thank you for selecting the University of Wisconsin-Madison for your educational program. We are glad you have chosen to study here, and we wish you the very best academic and interpersonal experiences during your stay.
Please download this "8 Steps to Becoming a UW-Madison International Student" guide to follow after you have been admitted.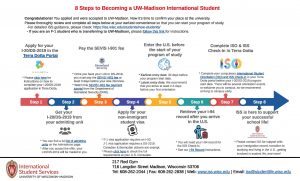 Please also download and follow the steps on this "Spring 2021 Guidance for New International Students" flowchart if you are a F-1 student with a program start date of January 2021 and Initial Status or Transfer Pending I-20 Issue Reason.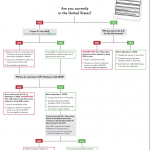 We also encourage you to watch this video about the process of applying for an "Initial Attendance" I-20 through Terra Dotta and the next steps to arrive on campus featuring ISS Interim Director Samantha McCabe and Assistant Director of Student Transitions & Co-curricular Education Morgan Keller. (English subtitles are available when viewing the video.)
We want to be a partner in your success at UW-Madison, and to help you prepare for your time here. We hope the information in this section will help you plan for your departure from your home country and for your first few weeks on campus.
Once you've been here a little while, please read through our Current Students page.
This is a video recording of ISS' live International Student Orientation (ISO) virtual session held on January 22, 2021. It contains a lot of helpful information and resources for new Global Badgers. Closed captions (CC) are available within the video to display the words. F-1 and J-1 students who have entered the U.S. to start their program of study at UW-Madison in the 2021 Spring Semester must complete International Student Orientation and Check-in within their
Terra Dotta
immigration portal by February 14, 2021.