Deborah Oluwakemi Akinwole (she/her/hers)
Credentials: International Reach Ambassador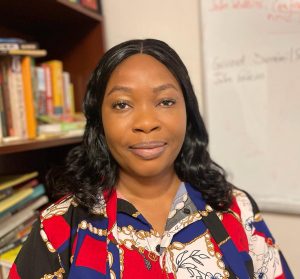 Hometown: Ondo State & Oyo State Nigeria (Lived in Lagos State and Ogun State)
Major: Special Education-Research and Theory-Track Masters
Bawo ni? How you dey? Deborah is my name and I speak Yoruba, English, Pidgin-English and Igbo. I love sharing about Nigerian currency, its value, beauty and history. Informing people about international currency and their values provides one with historical knowledge that will be worthy of note. I also love to talk about our native foods (Jollof Rice, Amala and Ewedu, etc.,) and Fashion. I am excited to participate in a cultural exchange that showcases the vibrant Yoruba culture while providing insights into the diverse cultures of Nigeria. I am particularly intrigued by the opportunity to immerse myself in the various cultures thriving at UW-Madison. A o pade layo!