Jaya Larsen (she/her/hers)
Position title: International Division Communications Specialist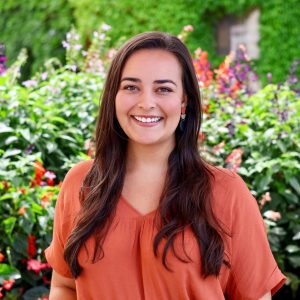 Jaya graduated from UW-Madison in 2020 with a degree in Journalism and Mass Communications. During her time here she also received certificates in Global Health, Environmental Studies and Digital Studies. Outside of academia, Jaya was active in many student organizations including Tangled Up in Blue, UW-Madison's oldest all-female a cappella group.
During her last semester, she began an internship at Common Wealth Development, a nonprofit focused on affordable housing, health equity and racial justice. After graduating, she began her role of communications and fund development full-time and served the organization for almost two years.
Jaya was born and raised in Whitefish Bay, Wisconsin but as a third-generation Badger, knew she would eventually end up in Madison at the university that sponsored her grandparents to relocate from India to do research.
In her free time, she enjoys cooking, singing and reading poetry as well as caring for her extensive indoor plant collection (250+ specimens). During the summer months you will even find her raising Monarch caterpillars into butterflies as she has been doing for the last 10+ years.