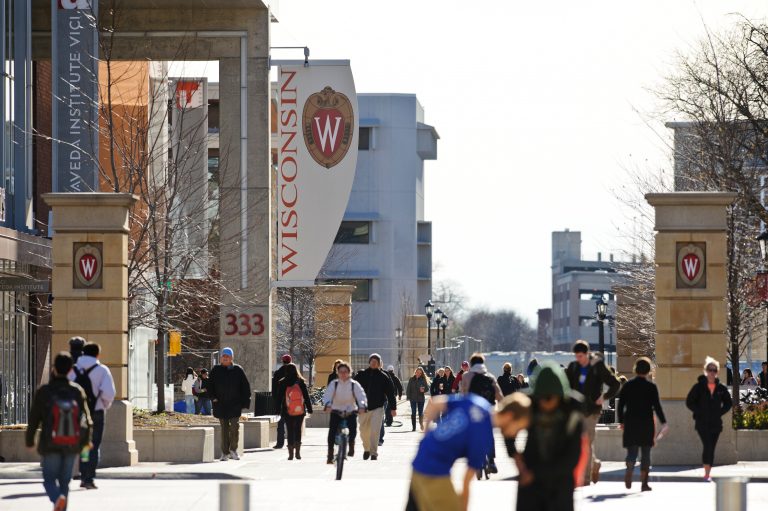 Welcome to Madison: Home of the Badgers!
Pre-Arrival Communication
Our pre-arrival newsletter is an important email series that we send out to newly admitted international students. These newsletters provide useful information and resources to help you plan ahead so you can arrive on time and transition smoothly to living in Madison and studying at the University. Please read them carefully as they include important announcements about travel, housing options, health and safety concerns, and more.
Read ISS New Students Pre-Arrival Newsletters
Download the Fall 2022 Support Letter for Travel and Visa Acquisition.
Planning Your Trip & Getting to Campus
Below is some important information and helpful resources for travel, packing, getting to campus, lodging, and housing based on Frequently Asked Questions (FAQs) from new students. For the latest information related to the COVID-19 pandemic and its impact on international students and their immigration status, please visit our COVID-19 Updates page.
This is an accordion element with a series of buttons that open and close related content panels.
Check your Travel Dates
F-1/J-1 students and their dependents can enter the United States on a student visa no more than 30 days before the start date on your I-20/DS-2019.
Pack the Essentials
In your carry-on luggage, make sure you have:
UW-Madison admission letter
I-20 or DS-2019
Passport valid for at least six months into the future with a valid F-1 or J-1 visa (not required for Canadians)
I-901 SEVIS fee receipt
Proof of funding for your academic program
For your electronic devices: The United States uses 120 volts, 60 hertz, and A/B plugs, so you may need an adapter. Find your country's voltage here.
For special occasions: Don't forget to pack your cultural attire and items from home! There are several events on campus that celebrate cultural diversity in which you may want to participate.
For the Wisconsin weather: Madison has four distinct seasons. You will be arriving at the end of summer. As you probably have already heard, Wisconsin is famous for its cold winters. Having appropriate clothing to stay warm is very important. Check our Enjoying Winter in Madison page for tips and resources about preparing for the cold months!
General Travel Information
Baggage: Do not send baggage, parcels, or similar personal belongings in care of the university; there are no facilities for accepting or storing personal packages sent in advance. It is less expensive to have packages mailed after your arrival.
Climate: Madison's climate is subject to great temperature variations. During the summer (June-September), temperatures are often above 26.6 degrees Celsius (80 degrees Fahrenheit) and occasionally above 32 degrees C. (90 degrees F.). During the winter (December-March), one must expect many days of -18 degrees C. (0 degree F.), and even lower. Both very light and very heavy clothing will be needed. Normal attire is usually casual rather than formal.
Currency: It may be difficult to convert non-U.S. money into U.S. currency immediately upon arrival in the United States. We suggest you bring at least $900.00 in U.S. traveler's checks for travel, food, rent, and incidental expenses. Check with your bank and credit card company to find out if your ATM and credit cards will be available to you in Madison, and what the limits are on using them abroad.
Getting to Campus (Madison, WI)
Airport Information
There are several airports with easy access to Madison, Wisconsin.
*Tickets can be purchased from the driver when you arrive, but please review the bus schedule prior to booking your flight.
Getting to your Housing
Calling a taxi is the easiest way to traverse the city with luggage in tow. Madison is home to several official taxi services including Badger Cab, Green Cab of Madison, Madison Taxi, and Union Cab. Taxi rides from the MSN airport to campus cost approximately $25 one way. There is a taxi waiting area outside of the baggage claim.
Hotel Lodging, Cooperative House, and CALS Housing
Plan to arrive in Madison at least one week before before your academic program starts to ensure a smooth transition to your new environment. You may not be able to move into your apartments right away. Here is a list of temporary housing options until you can move into your residence hall or apartment:
Hotel Lodging

There are several hotels located near campus. You can visit the Greater Madison Convention & Visitors Bureau's website http://www.visitmadison.com/hotels/ or do an internet search to find local accommodations available at different rates.

The International Cooperative House

The International Cooperative House is run by 26 housemates from all over the world. Call 608-283-6333 or email internationalcoop@gmail.com for more information.

CALS Housing

Rooms may be rented for single, double, or triple occupancy. Daily, weekly, and four-week contracts are available. Guest staying more than four weeks may obtain special rates by signing a contract and paying a $100 damage deposit.
All rental periods of less than six weeks require an entire payment in advance. Charge cards are NOT accepted. Personal checks are accepted from Wisconsin residents only. Non-residents can pay with traveler's checks or cash.
More information: http://fisc.cals.wisc.edu/housing/
To get the latest rates and availability information or to make a reservation, call 608-262-2270 or email dorms@cals.wisc.edu
Parking is available adjacent to the dorms for $7/day and $3.50/half-day. Permits may be purchased in Room B111 Jorns Hall when checking in. Parking is free Saturdays and Sundays and from 4:30pm – 7:00am on weekdays.
Check-in is between 12 noon and 11 p.m. Check-out is 11 a.m. after the evening of your stay. When making your reservation, be sure to indicate your anticipated arrival time. Reservations are held until 11 p.m. the day of your expected arrival. If delayed, please call to change or cancel your reservation. There is a recorded voice message in the voice mail system at (608) 262-2270 after office hours.
For more information, contact:
116 Agriculture Hall / 1450 Linden Dr. / Madison, WI 53706
(608) 262-2270
Hostel and Guest Rooms
On-campus and Off-Campus Housing
On-Campus Housing
If you would like to apply to live in university housing or family and dependent housing, please contact:
University Housing
625 Babcock Drive
Madison, WI 53706
Phone: (608) 262-2522
Web: http://www.housing.wisc.edu/ 
Off-campus Housing
The Campus Area Housing Office is separate from University Housing and provides off-campus vacancy listings of apartments, houses, efficiencies, rooms, and private residence halls for rent to the 30,000 UW-Madison students who live in privately owned housing. Consumer information on tenant rights and responsibilities is also available. Phone: (608) 263-2452
Campus & Visitor Relations also has information about lodging, parking, dining, and getting to campus. Phone: (608) 263-2400; e-mail: askbucky@uwmad.wisc.edu.
Tenant Resource Center
The Tenant Resource Center is a local not-for-profit agency that offers housing counseling to students in our new campus office. They can help you find housing, understand your rental rights and responsibilities, and answer questions about security deposits and lease agreements, getting repairs made, eviction, small claims court and more. They offer additional information to international students who may be unfamiliar with U.S. and Wisconsin laws about property ownership and renting. Find them in the Associated Students of Madison (ASM) office in the Student Activity Center. You can also e-mail them at uw@tenantresourcecenter.org or call 561-3727 or visitwww.tenantresourcecenter.org.
Madison Campus and Downtown Living 
http://www.cdliving.com
Greater Madison Visitor Bureau 
http://www.visitmadison.com/
Campus Area Housing List Services
http://campusareahousing.wisc.edu/sections.asp
Badger Jumpstart
Badger Jumpstart is an optional on-campus program designed for incoming students and one parent/guest to visit campus prior to moving in this fall. The program is 2 hours and 30 minutes, and includes a short information session about campus followed by a 75-min walking tour. Badger Jumpstart is not connected to a student's required SOAR Experience.