Please review these required immigration steps so that you can start your program of study.
Get started as soon as possible. Visa processing can take a long time, so plan ahead.
Also, be sure to follow any checklist that your admitting unit or academic department has provided you.
Are you an F-1 student who is transferring to UW-Madison? Please follow this link for instructions.
This is an accordion element with a series of buttons that open and close related content panels.
1. Apply for your I-20 or DS-2019
The I-20/DS-2019 can only be issued after you are admitted to the University and have activated your NetID.
You will apply through your Terra Dotta portal.
Please click here for instructions on how to complete your application in Terra Dotta. Click here for video tutorials on how to use Terra Dotta.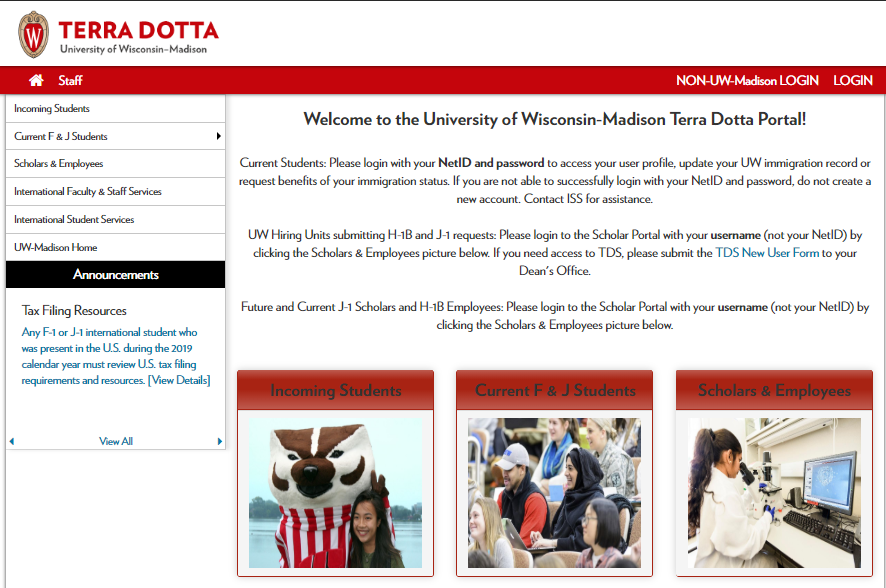 2. Get your I-20 or DS-2019 from your admitting unit
You can find the full list of admitting units on the Admissions page.
The I-20/DS-2019 can only be issued after you are admitted to the University.
Make sure that all information on your I-20/DS-2019 is accurate. For example, your name should match what is listed in your passport. If you notice an error, contact your admitting unit immediately.
Sign your document on page 1 in blue ink.
3. Pay the SEVIS I-901 fee
Once you have your I-20 or DS-2019, you must pay the SEVIS I-901 fee.
The Department of Homeland Security has a tutorial to help you: SEVIS I-901 fee payment tutorial
Pay your SEVIS I-901 fee at least 3 days before your visa interview.
Print 2 copies of your SEVIS I-901 fee payment receipt. You will need one for your visa application, and you should keep the other one for your personal immigration files.
4. Apply for your non-immigrant student visa
Check the full requirements at your US Consulate: https://www.usembassy.gov/
If you have an I-20, you will apply for an F-1 visa. Students with a DS-2019 must apply for the J-1 visa.
Citizens of Canada do not need to apply for a visa.
Minimum required documents for the visa application:
Completed form DS-160
A passport valid for at least 6 months after your proposed date of entry in the US.
1 photograph of 2×2″  (50 mm square) taken within the last 6 months, showing your full face, without head covering or eyeglasses, against a light background.
A receipt for visa processing fee.
All 3 pages of I-20 (for F-1) or DS-2019 (for J-1) Form, signed by you (the applicant) and by a school official in the appropriate places.
Financial evidence that shows you or your financial sponsors have sufficient funds to cover your tuition and living expenses, such as bank statement, scholarship letter, or graduate assistantship appointment letter.
Transcripts of diplomas from previous institutions attended.
Scores from standardized tests required for UW-Madison admission such as the TOEFL, SAT, GRE, GMAT, etc.
Proof of your binding ties to a residence in your home country which you have no intention of abandoning.
SEVIS I-901 receipt
Applicants with dependents

Proof of the student's relationships to his/her spouse and/or children (i.e. marriage and birth certificates). Families should apply for all visas at the same time. However, if the spouse and children must apply separately at a later time, they must bring a copy of the student visa holder's passport and visa, along with all other required documents.
Read these 10 points as you prepare for your visa interview.
5. Enter the U.S. before the start of your program of study
You are eligible to enter the United States with your F-1 or J-1 only 30 days before your program start date. You can find your program start date on your I-20 or DS-2019. Do not try to enter the United States earlier than this.
We recommend that you arrive at least 2-3 days before your first orientation.
If you are an F-1 student with a "transfer pending" I-20, please see
Travel and a "Transfer Pending" I-20
You are not required to depart the U.S. between schools.

If you do travel, you must re-enter the U.S. with a valid passport, valid F-1 visa, UW-Madison "transfer pending" I-20, and proof of admission to UW-Madison.

It is okay if the F-1 visa school name does not match your new I-20.
6. Retrieve your I-94 record after you arrive in the United States
You will need your I-94 record for ISS Check-in.
See our instructions on I-94 Record.
7. Complete the Online International Student Orientation and Check-in
There will be several orientation events before the start date of your I-20/DS-2019. Our office has changed our ISO and Check-in to be an online form on Terra Dotta. Please review the information on the International Student Orientation page for more information.
Please note, you must check in with ISS so that we can report your information to the US government, per federal immigration laws.