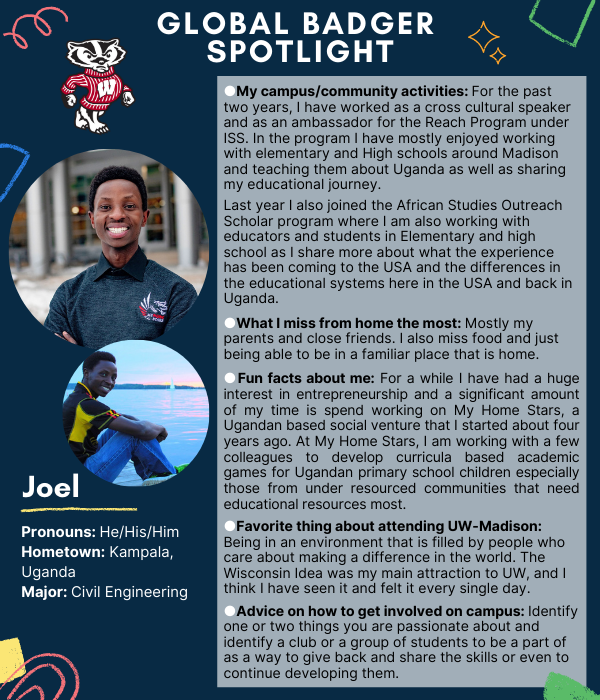 Name: Joel
Pronouns: He/Him/His
Hometown: Kampala, Uganda
Major: Civil Enginnering
●My campus/community activities: For the past two years, I have worked as a cross cultural speaker and as an ambassador for the Reach Program under ISS. In the program I have mostly enjoyed working with elementary and High schools around Madison and teaching them about Uganda as well as sharing my educational journey. Last year I also joined the African Studies Outreach Scholar program where I am also working with educators and students in Elementary and high school as I share more about what the experience has been coming to the USA and the differences in the educational systems here in the USA and back in Uganda.
●What I miss from home the most: Mostly my parents and close friends. I also miss food and just being able to be in a familiar place that is home.
●Fun facts about me: For a while I have had a huge interest in entrepreneurship and a significant amount of my time is spend working on My Home Stars, a Ugandan based social venture that I started about four years ago. At My Home Stars, I am working with a few colleagues to develop curricula based academic games for Ugandan primary school children especially those from under resourced communities that need educational resources most.
●Favorite thing about attending UW-Madison: Being in an environment that is filled by people who care about making a difference in the world. The Wisconsin Idea was my main attraction to UW, and I think I have seen it and felt it every single day.
●Advice on how to get involved on campus:  Identify one or two things you are passionate about and identify a club or a group of students to be a part of as a way to give back and share the skills or even to continue developing them.