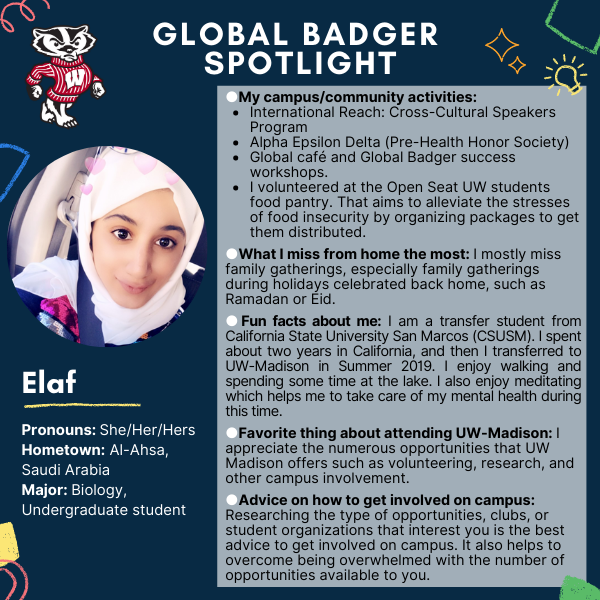 Name: Elaf
Pronouns: She/Her/Hers
Hometown: Al-Ahsa, Saudi Arabia
Major: Biology, Undergraduate Student
●My campus/community activities:
International Reach: Cross-Cultural Speakers Program
Alpha Epsilon Delta (Pre-Health Honor Society)

Global Café and Global Badger Success Fridays workshops.

I volunteered at the Open Seat UW students food pantry. That aims to alleviate the stresses of food insecurity by organizing packages to get them distributed.
●What I miss from home the most:  I mostly miss family gatherings, especially family gatherings during holidays celebrated back home, such as Ramadan or Eid.
●Fun facts about me: I am a transfer student from California State University San Marcos (CSUSM). I spent about two years in California, and then I transferred to UW-Madison in Summer 2019. I enjoy walking and spending some time at the lake. I also enjoy meditating which helps me to take care of my mental health during this time.
●Favorite thing about attending UW-Madison:  I appreciate the numerous opportunities that UW Madison offers such as volunteering, research, and other campus involvement.
●Advice on how to get involved on campus: Researching the type of opportunities, clubs, or student organizations that interest you is the best advice to get involved on campus. It also helps to overcome being overwhelmed with the number of opportunities available to you.