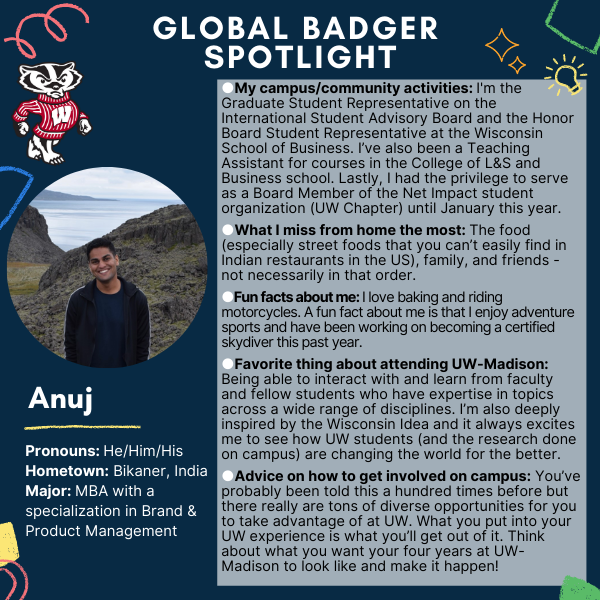 Name: Anuj
Pronouns: He/His/Him
Hometown: Bikaner, India
Major: MBA with a specialization in Brand & Product Management
●My campus/community activities: I'm the Graduate Student Representative on the International Student Advisory Board and the Honor Board Student Representative at the Wisconsin School of Business. I've also been a Teaching Assistant for courses in the College of L&S and Business school. Lastly, I had the privilege to serve as a Board Member of the Net Impact student organization (UW Chapter) until January this year.
●What I miss from home the most: The food (especially street foods that you can't easily find in Indian restaurants in the US), family, and friends – not necessarily in that order.
●Fun facts about me: I love baking and riding motorcycles. A fun fact about me is that I enjoy adventure sports and have been working on becoming a certified skydiver this past year.
●Favorite thing about attending UW-Madison: Being able to interact with and learn from faculty and fellow students who have expertise in topics across a wide range of disciplines. I'm also deeply inspired by the Wisconsin Idea and it always excites me to see how UW students (and the research done on campus) are changing the world for the better.
●Advice on how to get involved on campus: You've probably been told this a hundred times before but there really are tons of diverse opportunities for you to take advantage of at UW. What you put into your UW experience is what you'll get out of it. Think about what you want your four years at UW-Madison to look like and make it happen!