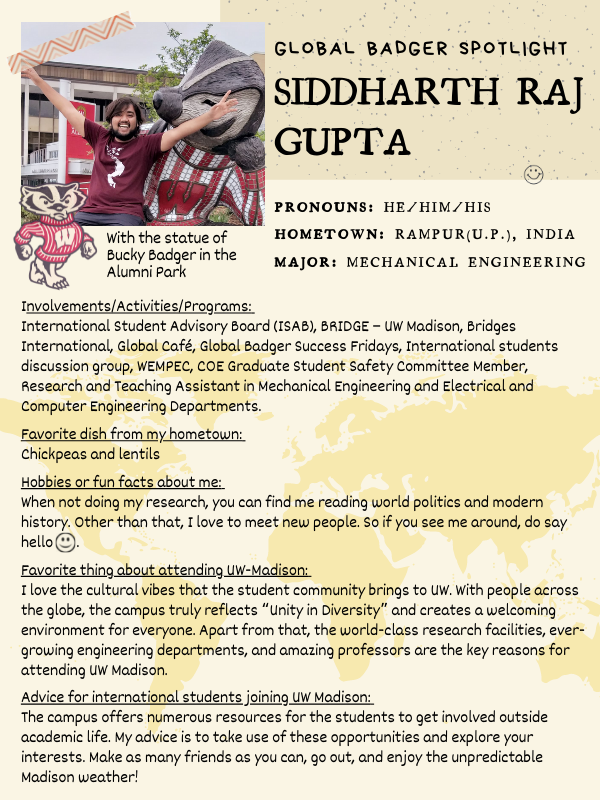 This was on the September 24, 2021 JustISSued: Involvement, Wellbeing & Success Newsletter (Fall 2021)
Name: Siddharth Raj Gupta
Pronouns: He/Him/His
Hometown: Rampur(U.P.), India
Major: Mechanical Engineering, Graduate
Involvements/Activities/Programs: International Student Advisory Board (ISAB), BRIDGE – UW Madison, Bridges International, Global Cafe, Global Badger Success Fridays, International students discussion group, WEMPEC, COE Graduate Student Safety Committee Member, Research and Teaching Assistant in Mechanical Engineering and Electrical and Computer Engineering Departments.
Favorite dish from my hometown: Chickpeas and lentils
Hobbies or fun facts about me: When not doing my research, you can find me reading world politics and modern history. Other than that, I love to meet new people. So if you see me around, do say hello 🙂 
Favorite thing about attending UW-Madison: I love the cultural vibes that the student community brings to UW. With people across the globe, the campus truly reflects "Unity in Diversity" and creates a welcoming environment for everyone. Apart from that, the world-class research facilities, ever-growing engineering departments, and amazing professors are the key reasons for attending UW Madison.
Advice for international students joining UW Madison: The campus offers numerous resources for the students to get involved outside academic life. My advice is to take use of these opportunities and explore your interests. Make as many friends as you can, go out, and enjoy the unpredictable Madison weather!