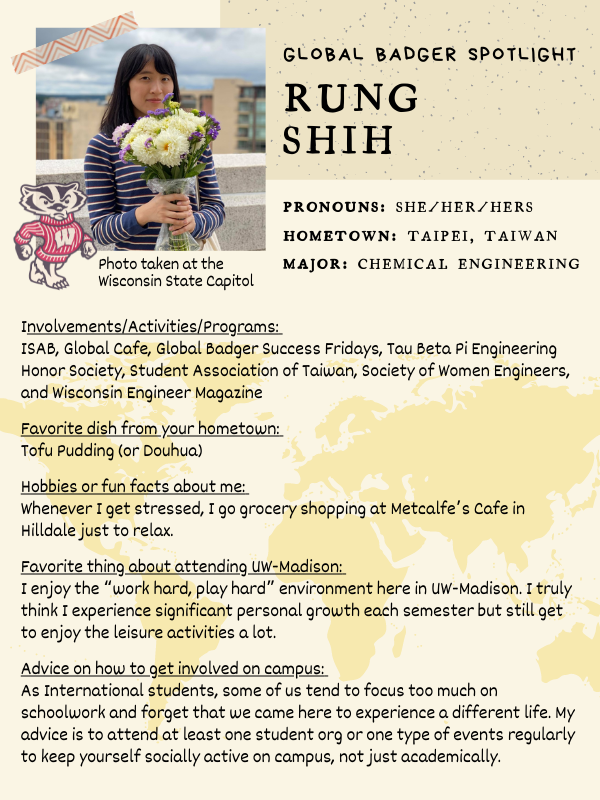 This was on the September 10, 2021 JustISSued: Involvement, Wellbeing & Success Newsletter (Fall 2021)
Name: Rung Shih
Pronouns: She/Her/Hers
Hometown: Taipei, Taiwan
Major: Chemical Engineering, Undergraduate
Involvements/Activities/Programs: International Student Advisory Board, Global Cafe, Global Badger Success Fridays, Tau Beta Pi Engineering Honor Society, Student Association of Taiwan, Society of Women Engineers, and Wisconsin Engineer Magazine
Favorite dish from my hometown: Tofu Pudding (or Douhua)
Hobbies or fun facts about me: Whenever I get stressed, I go grocery shopping at Metcalfe's Cafe in Hilldale just to relax.
Favorite thing about attending UW-Madison: I enjoy the "work hard, play hard" environment here in UW-Madison. I truly think I experience significant personal growth each semester but still get to enjoy the leisure activities a lot.
Advice on how to get involved on campus: As International students, some of us tend to focus too much on schoolwork and forget that we came here to experience a different life. My advice is to attend at least one student org or one type of events regularly to keep yourself socially active on campus, not just academically.