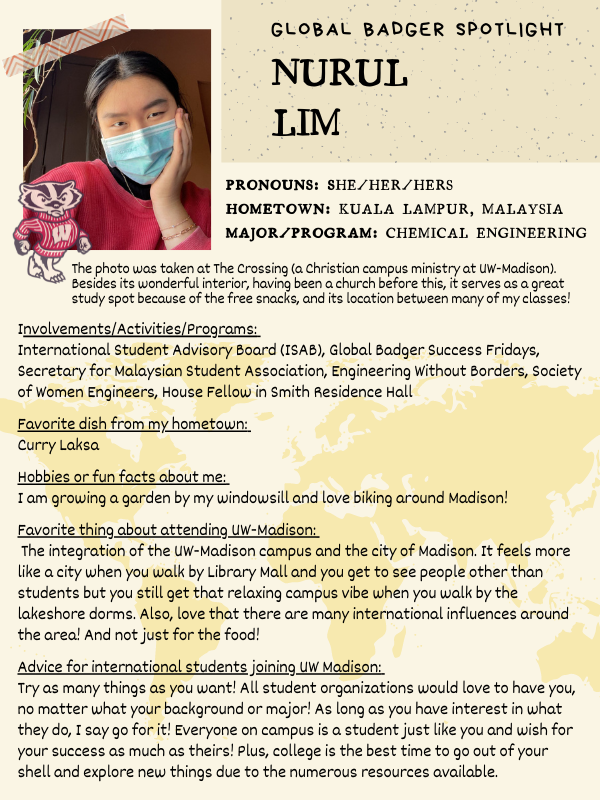 This was on the October 8, 2021 JustISSued: Involvement, Wellbeing & Success Newsletter (Fall 2021)
Name: Nurul Lim
Pronouns: She/Her/Her
Hometown: Kuala Lumpur, Malaysia
Major: Chemical Engineering, Undergraduate
Involvements/Activities/Programs: International Student Advisory Board (ISAB), Global Badger Success Fridays, Secretary for Malaysian Student Association, Engineering Without Boarders, Society of Women Engineers, House Fellow in Smith Residence Hall
Favorite dish from my hometown: Curry Laksa
Hobbies or fun facts about me: I am growing a garden by my windowsill and love biking around Madison!
Favorite thing about attending UW-Madison: The integration of the UW-Madison campus and the city of Madison. It feels more like a city when you walk by Library Mall and you get to see people other than students but you still get that relaxing campus vibe when you walk by the lakeshore dorms. Also, love that there are many international influences around the area! And not just for the food!
Advice for international students joining UW Madison: Try as many things as you want! All student organizations would love to have you, no matter what your background or major! As long as you have interest in what they do, I say go for it! Everyone on campus is a student just like you and wish for your success as much as theirs! Plus, college is the best time to go out of your shell and explore new things due to the numerous resources available.