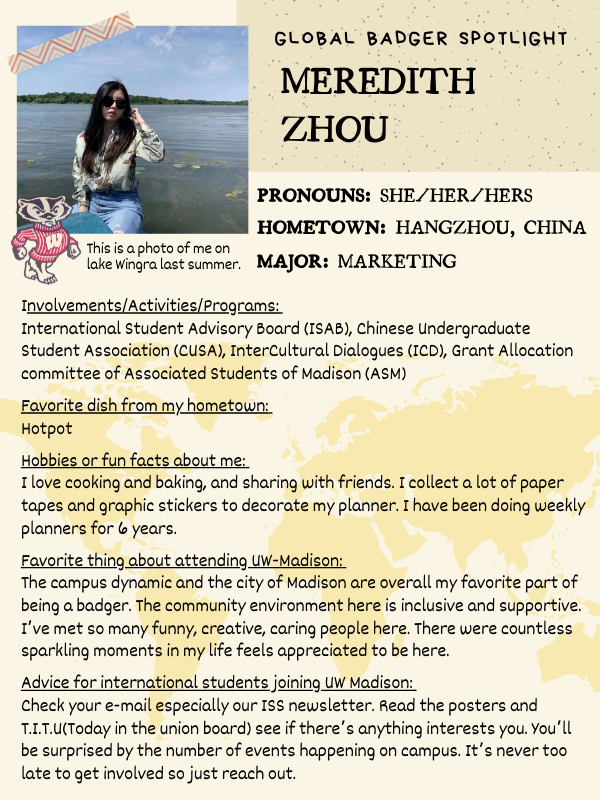 This was on the November 5, 2021 JustISSued: Involvement, Wellbeing & Success Newsletter (Fall 2021)
Name: Meredith Zhou
Pronouns: She/Her/Hers
Hometown: Hanzhou, China
Major: Marketing
Involvements/Activities/Programs: International Student Advisory Board (ISAB), Chinese Undergraduate Student Association (CUSA), InterCultural Dialogues (ICD), Grant Allocation Committee of Associated Students of Madison (ASM)
Favorite dish from my hometown: Hotpot
Hobbies or fun facts about me: I love cooking and baking, and sharing with friends. I collect a lot of paper tapes and graphic stickers to decorate my planner. I have been doing weekly planners for 6 years.
Favorite thing about attending UW-Madison: The campus dynamic and the city of Madison are overall my favorite part of being a badger. The community environment here is inclusive and supportive. I've met so many funny, creative, caring people here. There were countless sparkling moments in my life feels appreciated to be here.
Advice for international students joining UW Madison: Check your e-mail especially our ISS newsletter. Read the posters and T.I.T.U (Today in the union board) see if there's anything interests you. You'll be surprised by the number of events happening on campus. It's never too late to get involved so just reach out.