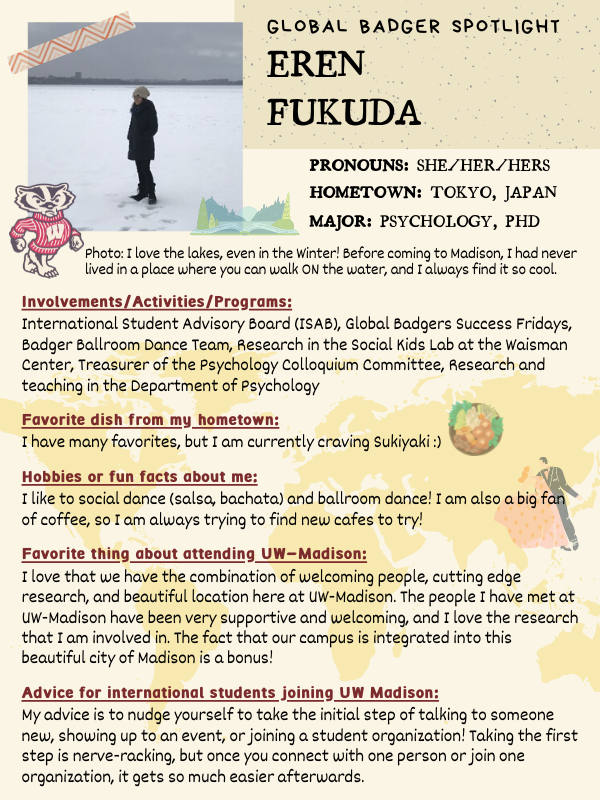 This was on the November 19, 2021 JustISSued: Involvement, Wellbeing & Success Newsletter (Fall 2021)
Name: Eren Fukuda
Pronouns: She/Her/Hers
Hometown: Tokyo, Japan
Major: Psychology, Ph.D.
Involvements/Activities/Programs: International Student Advisory Board (ISAB), Global Badgers Success Fridays, Badger Ballroom Dance Team, Research in the Social Kids Lab at the Waisman Center, Treasurer of the Psychology Colloquium Committee, Research and teaching in the Department of Psychology
Favorite dish from my hometown: I have many favorites, but I am currently craving Sukiyaki 🙂
Hobbies or fun facts about me: I like to social dance (salsa, bachata) and ballroom dance! I am also a big fan of coffee, so I am always trying to find new cafes to try!
Favorite thing about attending UW-Madison: I love that we have the combination of welcoming people, cutting edge research, and beautiful location here at UW-Madison. The people I have met at UW-Madison have been very supportive and welcoming, and I love the research that I am involved in. The fact that our campus is integrated into this beautiful city of Madison is a bonus!
Advice for international students joining UW Madison: My advice is to nudge yourself to take the initial step of talking to someone new, showing up to an event, or joining a student organization! Taking the first step is nerve-racking, but once you connect with one person or join one organization, it gets so much easier afterwards.