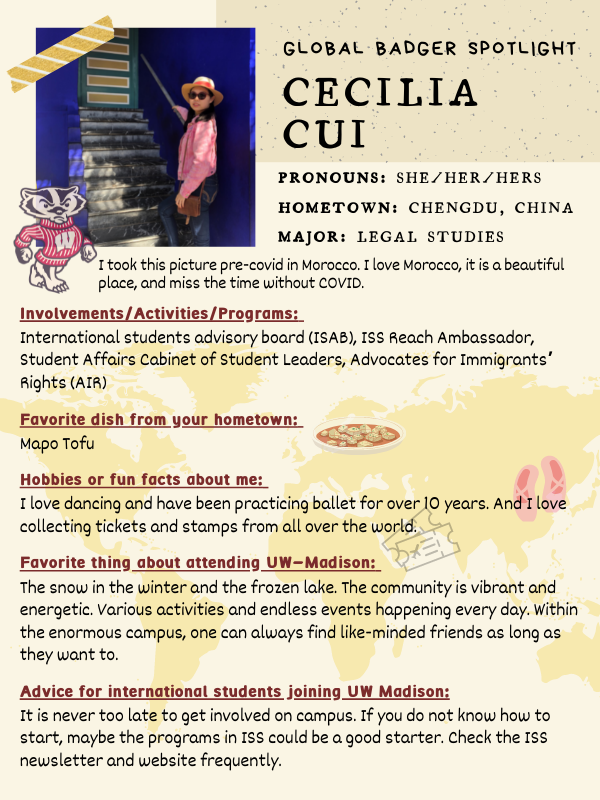 This was on the December 10, 2021 JustISSued: Involvement, Wellbeing & Success Newsletter (Fall 2021)
Name: Cecilia Cui
Pronouns: She/Her/Her
Hometown: Chengdu, China
Major: Legal studies
Involvements/Activities/Programs: International Student Advisory Board (ISAB), ISS International Reach Ambassador, Student Affairs Cabinet of Student Leaders, Advocates for Immigrants' Rights (AIR)
Favorite dish from my hometown: Mapo Tofu
Hobbies or fun facts about me: I love dancing and have been practicing ballet for over 10 years. And I love collecting tickets and stamps from all over the world.
Favorite thing about attending UW-Madison: The snow in the winter and the frozen lake. The community is vibrant and energetic. Various activities and endless events happening every day. Within the enormous campus, one can always find like-minded friends as long as they want to.
Advice for international students joining UW Madison: It is never too late to get involved on campus. If you do not know how to start, maybe the programs in ISS could be a good starter. Check the ISS newsletter and website frequently.