No matter how rich in history a building may be, its future is bleak without an adaptive use plan and community support.
The university's need for more centrally located space for student and visitor services coincided with the desire to find a way to use space more efficiently in the historic Armory and Gymnasium. The two goals came together in the fall of 1988 when then-Chancellor Donna E. Shalala asked Dean of Students Mary Rouse, and Bruce Murray, professor of landscape architecture, to co-chair a 15-person committee of faculty, students and staff to examine future uses for the Red Gym.
The building was placed high on the campus priority list. With the Board of Regents' endorsement, the State Building Commission earmarked a $190,000 loan in March 1991 for the first step in an adaptive use project, a Historic Structure Report (HSR). Students enthusiastically added their support.
The structure report, published in the summer of 1992, confirmed the gym's historic significance and provided suggestions for restoring the UW-Madison landmark.
"It is a rare surviving example of a once important and unusual building type–the combination armory and gymnasium. Today, there are few remaining armory buildings or university gymnasiums dating from the period of the Red Gym," according to the consultants, Mesick Cohen Waite Architects, Albany, N.Y., and the Zimmerman Design Group, Milwaukee.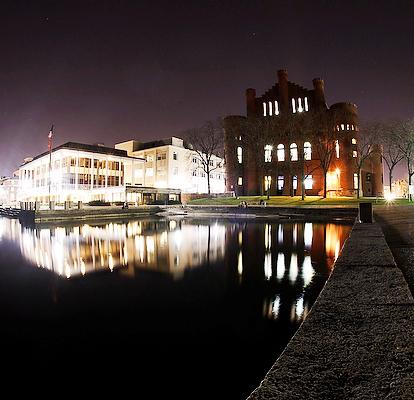 By April 1993 the State Building Commission unanimously approved $240,000 in building trust funds. A preliminary plan and design report was funded for completion by the fall of 1994.
To provide further confirmation of historic significance, the university submitted a nomination as a National Historic Landmark. After approval from Wisconsin's Historic Preservation Officer and the National Park Service, the Secretary of the Department of the Interior formally approved the landmark status on November 8, 1993. Jerry Rogers, associate director for cultural resources of the National Park Service, dedicated the gym and presented bronze plaques to Chancellor David Ward on May 16, 1994. .
More than a century after its completion, a $11.5 million restoration project was completed in 1998. In addition to the multiple student services offices, the new Red Gym contains a public lounge in a newly-created mezzanine above the second floor that includes a view of Lake Mendota; a student art gallery; a media room for group presentations; and the multi-purpose On Wisconsin Room, on the site of the old swimming pool on the first floor.
As one of the most beautiful and recognizable buildings on the UW-Madison campus, International Student services, ISS, is proud to call the "Old Red Gym" home.